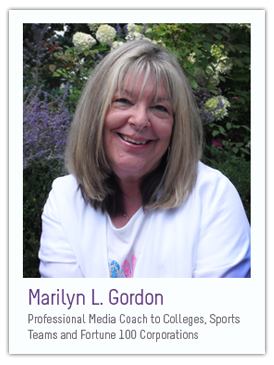 Marilyn L. Gordon is the president and founder of Mediatude LLC.  She has 30 years of experience in broadcast/marketing communication, higher education research and teaching. Her expertise includes successful communication in the workplace, social media education, media coaching, and presentations skills coaching for both live and online backdrops. She has worked with Sandy Corporation, Ford Motor Company, Central Michigan University , Schoolcraft College, The University of Michigan, Indiana University Plymouth High School, Canton High School and Northville High School in Michigan.  She also coaches a number of one-on-one clients.
Previously, she was an account director and director of media and presentation training for 11 years at a marketing/communications company in Dearborn, Michigan. During her tenure there, she conducted media training and speaker training for clients from corporate CEOs to race car drivers. Some of those clients included Ford Racing, Ford Land, Meridian Automotive, Tower Automotive, U.S. Steel, the City of Dearborn Police Department and Ford Motor Company executives and staff.
Additionally, she was responsible for managing such accounts as BP North America, Michelin North America Inc., the Ford InSight Career Office, Ford Motor Company GLAD (Global Lifestyle Analytics Department), Meridian Automotive Systems and the Bosch North American Centennial Gala.
Prior to joining the Dearborn company, Gordon taught undergraduate and MBA speaking and writing classes for seven years in the Business Communication Department at the Ross School of Business at the University of Michigan. While there, she created, developed, and implemented a first-of-a-kind class in Business/Media Relations for the MBA program using original copyrighted research. She also taught in the business school's Executive Education program. Gordon conducted media seminars to various University of Michigan academic groups and the Department of Athletics, as well as  Indiana University.
Before obtaining her graduate degree and teaching, Gordon worked for WJR Radio, Detroit, for nine years. She was senior producer for the number one shows "Focus" and the on-the-road "Morning Show" for five years. While there, she produced the "Morning Show" from Moscow for 10 days during the Reagan/Gorbechev Summit in 1988.
She also served as an Adjunct Assistant Professor at Madonna University, Livonia, Michigan for three years. She currently teaches part time in the Business Development Center and Center for Education and Professional Development at Schoolcraft College in Livonia, MI.